Fireside Chat with Raymond Santana
Preceded by Scholar Panel exploring the causes and impact of wrongful convictions and accusations involving youth of color
Mon, 24 February, 2020
5:00pm - 8:30pm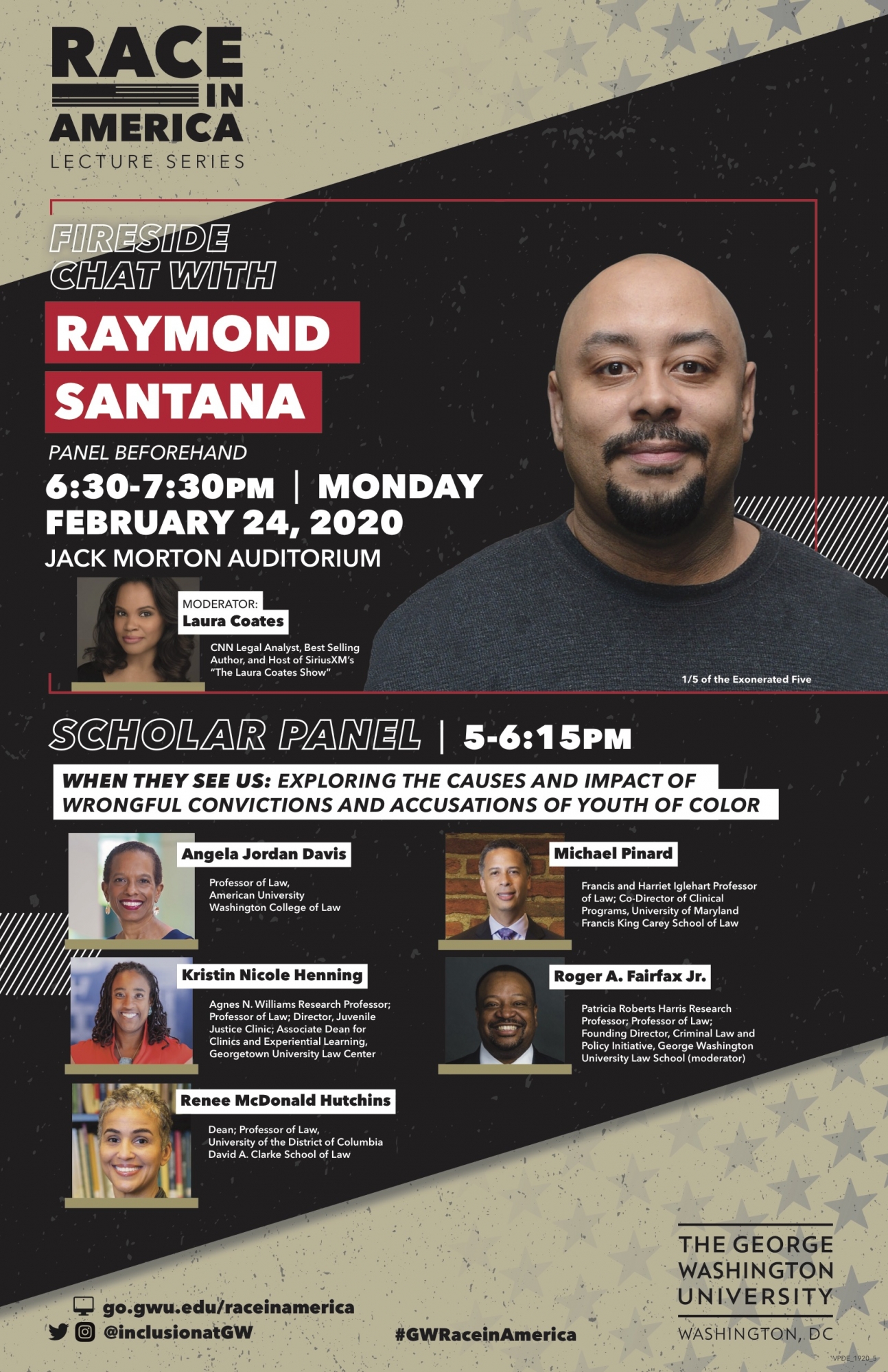 The Office for Diversity, Equity, and Community Engagement invites you to attend the inaugural Race in America Lecture Series on Monday, February 24th from 5-7:30pm in the Jack Morton Auditorium. The lecture series will feature a Scholar Panel Discussion and Fireside Chat.
Scholar Panel Discussion
"When They See Us: Exploring the Causes and Impact of Wrongful Convictions and Accusations of Youth of Color" 
5pm-6:15pm
The scholar panel discussion, "When They See Us: Exploring The Causes and Impact of Wrongful Convictions and Accusations of Youth of Color", will feature Angela Jordan Davis, Kristin Nicole Henning, Renee McDonald Hutchins, and Michael Pinard and will be moderated by GW Professor of Law, Patricia Roberts Harris Research Professor and Founding Director of the Criminal Law and Policy Inititive, Roger A. Fairfax Jr. 
A Fireside Chat with Raymond Santana 
6:30-7:30pm
Following the panel discussion, CNN Legal Analyst, Best Selling Author, and SiriusXM Host, Laura Coates will take the stage alongside Raymond Santana, 1/5 of the "Exonerated Five" for a Fireside Chat at 6:30pm. Immediately after the Fireside Chat and Audience Q&A will be a reception.
About Raymond Santana:
On the night of April 19, 1989, a young woman was brutally attacked and raped in Central Park. When she recovered, she had no memory of the assault. Five boys, including Raymond Santana, were tried and convicted of the crime in a frenzied case that rocked the city. At the time, the defendants were between 14 and 16 years of age. They became known collectively as "The Central Park Five."
On December 19, 2002, the convictions of the five men were overturned. The unidentified DNA in the Central Park Jogger Case – unlinked to any of the five – had finally met its owner, a convicted murderer and serial rapist who confessed. Santana had spent five years in prison for a crime he did not commit.
Now known as "The Exonerated Five," the group has been committed to advocating and educating people on the disparities in America's criminal justice system. The investigation of this conviction has raised questions regarding police coercion and false confessions, as well as the vulnerability of juveniles during police interrogations.
Santana tweeted award-winning director Ava DuVernay about the story of the Central Park Five, which led to it becoming the subject of the hit Netflix series, When They See Us. The four-part series not only became one of Netflix's most-watched shows, but it also earned the streaming giant its most Emmy nominations with a total of 16. 
Santana now works closely with the Innocence Project and is a member of the New York City Justice League. He owns the clothing company Park Madison NYC, named after his home city of New York.
About Laura Coates: 
Laura Coates is a well-respected attorney, commentator, law Professor, author, and radio talk show host. A native of Saint Paul, Minnesota, Laura graduated from Princeton University's Woodrow Wilson School of Public and International Affairs and the University of Minnesota Law School before beginning her legal career in private practice. She practiced law in Minnesota and New York handling cases ranging from intellectual property litigation and First Amendment issues to Defamation and Media law.  Called to public service, she transitioned from private practice to the United States Department of Justice, thriving as a federal prosecutor. She served as a Trial Attorney in the Civil Rights Division of the Department of Justice during the Bush and Obama administrations, specializing in the enforcement of voting rights throughout the country.  She also served as an Assistant United States Attorney for the District of Columbia, prosecuting a myriad of violent felony offenses including drug trafficking, armed offenses, domestic violence, child abuse and sexual assault.
Laura's depth of experience and broad expertise has earned her acclaim across all media platforms.  Easily branded a constitutional expert, her diversified expertise is both timely and topical.  She is lauded across the globe for her persuasive objectivity and ability to break down complex and emotionally-charged topics plainly and without partisanship. Her opinions and analysis can be found in national publications such as the Washington Post, USA Today, and are prominently featured on CNN, where she has long served as a Legal Analyst.
Recognizing the dire need for increased police accountability and improved police-community relations, she wrote the bestselling 2016 book, You Have the Right: A Constitutional Guide to Policing the Police. In the book, Laura removes the legalese and helps ordinary citizens know and understand their 4th, 5th and 6th Amendment rights.
In 2017, she launched the daily eponymous talk show, "The Laura Coates Show," on SiriusXM's UrbanView channel. On her interactive show, Laura "edutains" an engaged audience with a lively discussion on the intersections of politics, law, and pop culture in a way that highlights her intelligence, humor, charisma and … antics.
In addition to being a CNN Legal Analyst and daily talk show host, Laura is an adjunct professor at the George Washington University School of Law and routinely speaks across the country on civil rights, social justice, economic empowerment, and leaps of faith.
Laura currently resides in Washington, D.C. with her husband and two children.
About Our Panelists:
Angela Jordan Davis: Professor of Law, American University Washington College of Law 
Kristin Nicole Henning: Agnes N. Williams Research Professor; Professor of Law; Director, Juvenile Justice Clinic; Associate Dean for Clinics and Experiential Learning, Georgetown University Law Center 
Renee McDonald Hutchins: Dean; Professor of Law, University of the District of Columbia David A. Clarke School of Law 
Michael Pinard: Francis and Harriet Iglehart Professor of Law; Co-Director of Clinical Programs, University of Maryland Francis King Carey School of Law 
Roger A. Fairfax Jr. (Moderator): Patricia Roberts Harris Research Professor; Professor of Law; Founding Director, Criminal Law and Policy Initiative, George Washington University Law School